30 June 2020
Out now  Legowelt Pancakes with Mist
The brand new Legowelt album on Nightwind Records NW025 get it here at bandcamp!
---
17 June 2020
Sammy Osmo Schaduw Horizon album reissue on double vinyl LP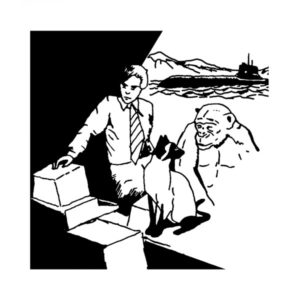 My 2008 Sammy Osmo – 'Schaduw Horizon'  album is going to be reissued by the London Utter records, coming out in a fancy 2xLP package with lots of extras such as inserts, sticker and a foldable chess set!
Originally released in 2008 on the Strange Life label on a CDR this ice cold Yamaha DX7IID drenched spywave album was very much influenced by real locations in the vicinity of the The Hague dune studio where this was recorded. 

The album has been remastered then transferred and cut by Helmut Erler at D&M. It is housed in a deluxe gatefold sleeve that opens to reveal detailed stories behind each track, while the entire back cover is a life-size chess board for any budding Alberts wishing to play a game. A special 'confidential documents' envelope completes the package and contains a map of the abandoned zoo, a top secret letter including coordinates of the locations featured in the story, DX7 schematics, foldable chess pieces and a 'Schaduw Horizon' sticker.
Pre-order your copy here on the UTTER bandcamp, or the Phonica recordstore, it should be out somewhere in August! Its also available digitally on my Legowelt bandcamp here for free/pay what you want in the meanwhile…
---
8 June 2020
IFM streaming fest 2020 Legowelt Live set Video online
Here is the video from the Legowelt gig for the Intergalactic FM streaming festival from a few weeks ago! One hour of The Hague electronix freestyle italo scumtechno from the Northsea Institute for the Overmind with lots of Amiga stylooo Dpaint GFX and some of my animations keyed over it. Some of the gear for the trainspotterzzzzzz -> Polyend Tracker prototype – Novation AFX Basstation – EMU EMAX II – lots of modular stuff from Error Instruments &  Das Ding's HSTA brands, Sequential Circuits Pro One, Roland KIWI 106 and lots more. 
---
27 May 2020
New Paintings For Sale
Time to expand or start your art collection! I am selling some paintings that were used in the Secrets After Dreams animationvideoclip from earlier this year. The paintings ared 24 by 32 centimeters and come in a high quality cherrymarble wood colored frame, I guess I can make some giclée art prints too if someone wants them…more info in the gallery section!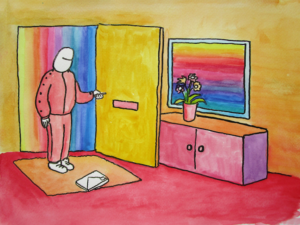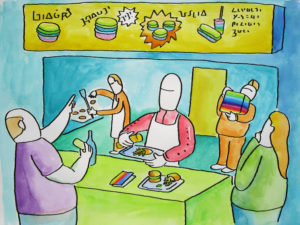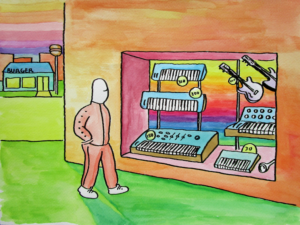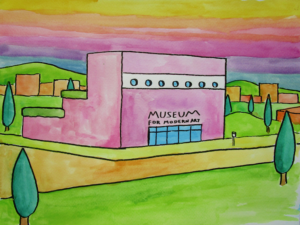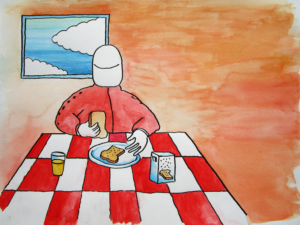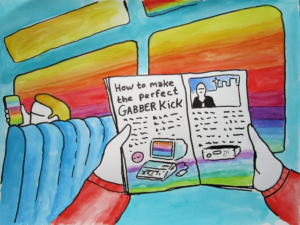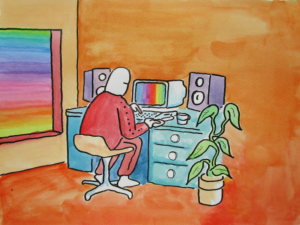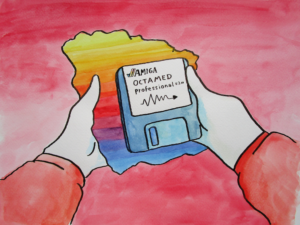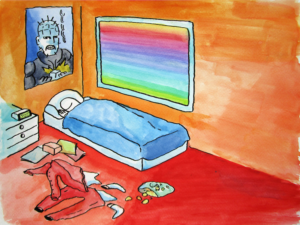 ---
15 May 2020
Intergalactic FM streaming festival 2020 is on!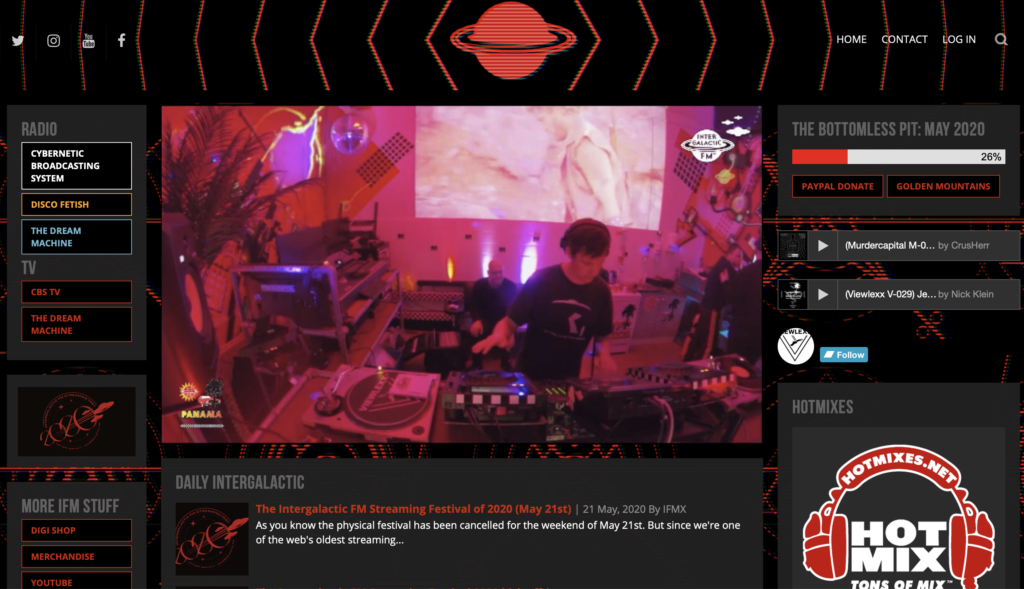 This whole weekend more then 75 artists are streaming at the INTERGALACTIC.FM online festival. Tune in here -> www.intergalactic.fm
As with the real festival the line up is rag-tag and there is occasionaly a scrolling bar in the video which sais who is going to play in the next few hours.
I do a liveset too with lots of psychedelic computer GFX genlocked over the video, when it is aired I dunno -> keep watching the INTERGALACTIC.FM streaming fest and you will see 🙂 
"As you know the physical festival has been cancelled for the weekend of May 21st. But since we're one of the web's oldest streaming organizations we came up with an alternative and asked everybody who was supposed to come (and more) to record a special performance for this alternative festival.
The response has been insane and we expect at least 75+ hours of special content from electronic rockers from all over the galaxy!
The line-up is truly a dream come true and you can keep track of it via this site: https://www.intergalactic.fm/ifmfestvisitors2020/
The event will be exclusively broadcasted via 2 channels: CBSTV and Dream Machine TV @ www.Intergalactic.fm.
The event is starting Thursday May 21st at 1600 Central Intergalactic Time (CIT) and nobody knows when it will end since we'll keep stuff running giving everybody a chance to tune in at some point. (And if the whole shizzkebap falls apart we'll rebuild it again :)"
So get some snacks, sparkling water, booze, roll a few up or whatever and exprience the IFM festival in your own dwellings!
---
12 May 2020
Calimex Mental Implant Corporation 2xLP Back in Stock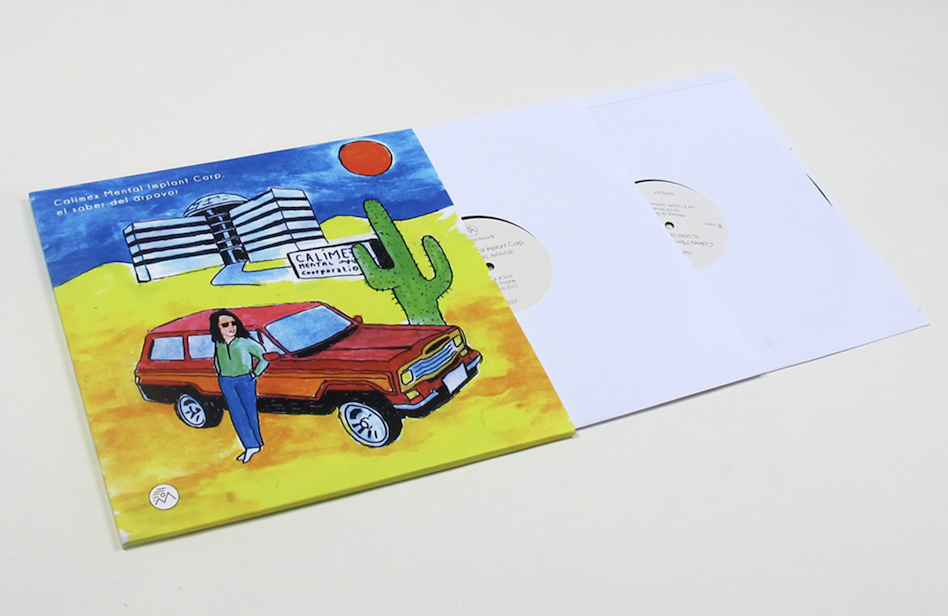 The 2015 Calimex Mental Implant Corporation 2xLP on Nightwind Records is back in the stock in some shops if you don't have a copy yet go check it out!
From the Bleep.com website:
"an album of bonkers electro rooted house and techno on his Nightwind Records imprint. El Saber Del Arpavor is a particularly melodic listen, containing warm house music, boogie-funk electro, and downtempo instrumental balladry. Each track carries the distinctive analogue synthesizer sound that has become Wolfers' sonic trademark, and shows that there's no sign of him slowing down any time soon. Basically this is prime time Legowelt action, deep swinging electro and hip-hop styles with a psychedelic edge that can only come from one D. Wolfers"
The release is also on bandcamp for pay what you want here!
get the vinyl at the following shops:
BLEEP U.K.
CLONE Holland
DISK UNION japan
and probably some other stores around the world too…
Listen to the tracks here:
---
Friday 1 May 2020
Zandvoort & Uilenbal – Folk Triumfator Out Now
NIGHTWIND RECORDS NW024
A new ZANDVOORT & UILENBAL album -> Medieval music expert Jimi Hellinga teams up with Legowelt for an 11 track dark medieval spacejazz ambient dungeonfolk album called "FOLK TRIUMFATOR' the successor to their 'Geruis Uit Somberdorp'  album from 2016.
Its available on bandcamp for free/pay what you want. Think of the more experimental non guitar stuff from Current93 mixed with Kenny G mingled up with Luciano Berio sauced with Amateur Space Jazz and lots of sinister old instruments like the hurdy gurdy and harmonium.
FOLK TRIUMFATOR is the second album by Zandvoort & Uilenbal, a 'paramusical academic' project of medieval musician Jimi Hellinga and Danny Wolfers. As Zandvoort & Uilenbal they appropriate historical instruments such as a 19th century Victorian harmonium, a medieval hurdy gurdy, an electro acoustic thumb harp and an mid 20th century German Mixtur Trautonium. These are cross bred with the usual arsenal of contemporary electronic instruments and seasoned with some sinister poetry in their North Sea coast temple of sensory sonic delights.
We can write how conceptual and arty this all is but let's just say this is hardcore dark ambient with lots of medieval drone space jazz influences to trip your mind out into a region where time and your opinions cease to exist.
A bit more about some of the instruments used:
The mighty medieval hurdy gurdy is a curious, and for its time, highly technologically advanced instrument in which sound is produced by a rotating wheel'bow' that strikes strings while a little Keyboard that pushes wedges is used to play the melodies. Special dedicated strings can be set to play a continuous drone that can accompany the melody. You can hear Jimi Hellinga playing his hurdy gurdy on tracks like "Safe Sailing for the Galleon Caladrius" and "Folk Triumfator"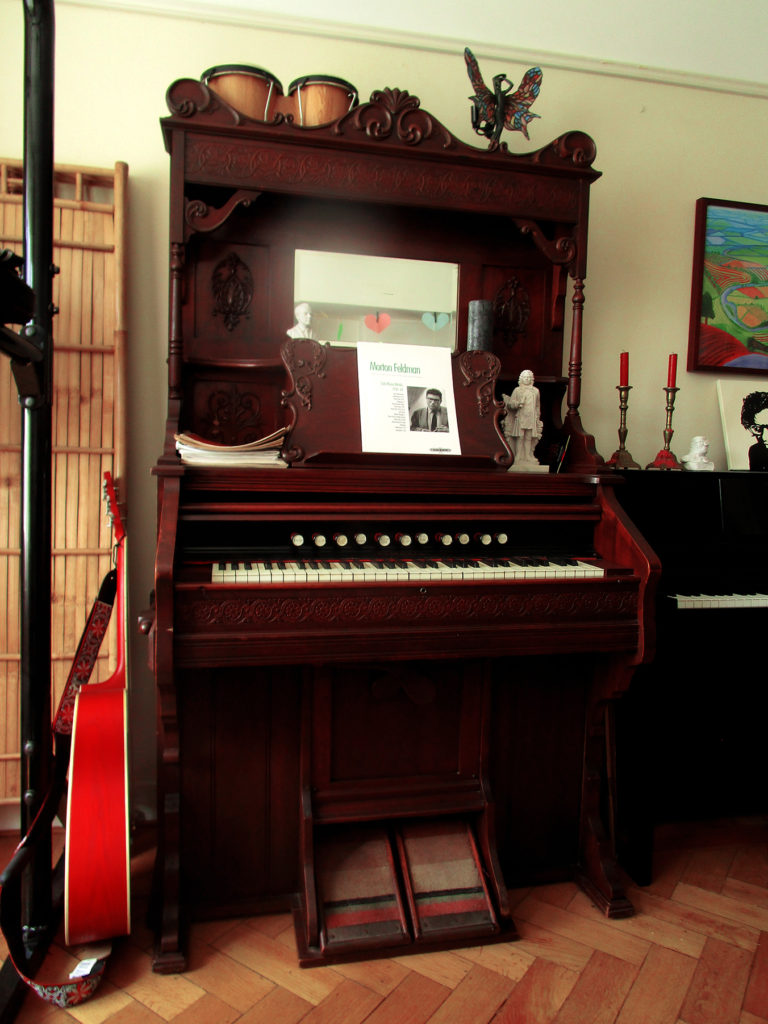 The late 19th century Kimbal parlor organ/harmonium was already used intensively on the first Zandvoort & Uilenbal album (the 2015 "Geruis Uit Somberdorp"). With its grotesque wooden carvings and ornaments it is still a pièce de resistance in the studio. This colossal instrument produces creaking haunting drones that have become the signature sound for the Zandvoort & uilenbal project.
An electro acoustic mbria / kalimba – an electrified thumb harp using a contact microphone going directly into a tape echo and spring reverb -instantly brings forth endless rusty metallic sounds of chaos like a dark Ligottian music box. It can be heard on 'Always a Nice Story Before Bedtime' among other songs.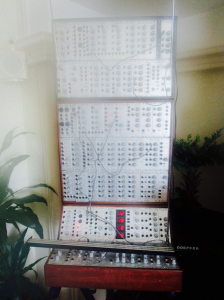 The mixtur trautonium, just like the parlor organ, is also revived from the preceding album. This strange early electronic instrument originally invented in 1929 by Friedrich Trautwein at the Berlin Musikhocheschule music and radio lab provides spookily electro acoustic sounds that can be played in an intense expressive manner with a special touch controller. The one we use is based around a Doepfer modular that emulates more or less the classic Mixtur Trautonium build by Oskar Sala in the 1950s.
---
21 April 2020
Ambient Trip Commander Mix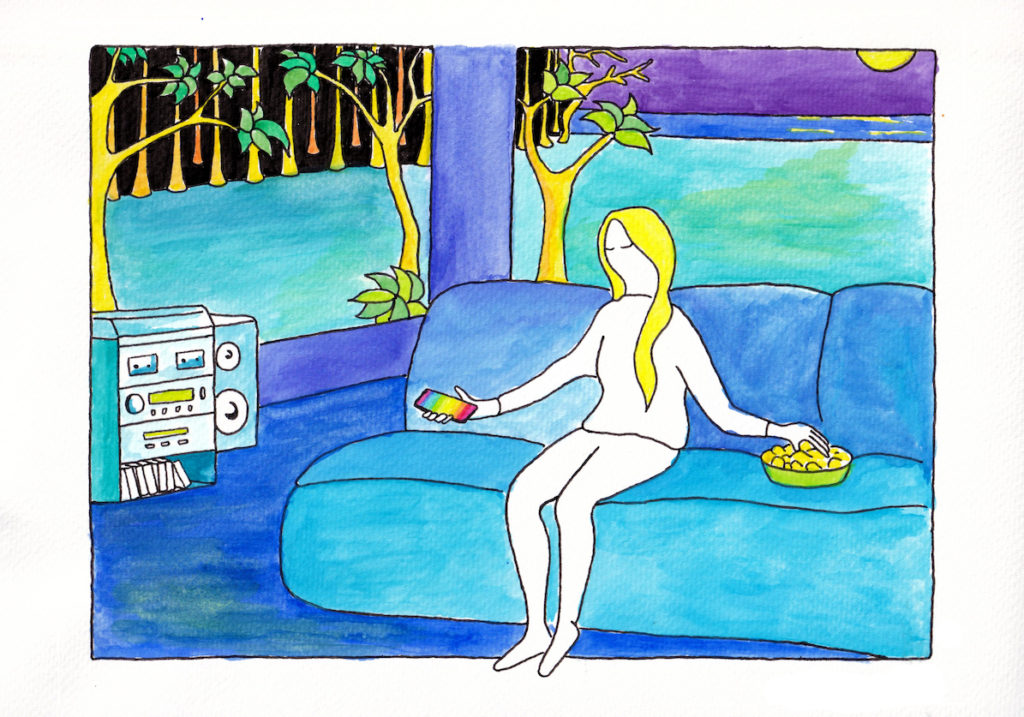 a 100+ minute hardcore AMBIENT SPACE DJ mix to drowse into dreamland with, trip your consciousness into a cozy custard of exaltation, make your fitness yogo meditation stretching substantial,  uplift menial work tasks into a more pleasant adventurous experience, transform your living quarters into a temple of transcendence, soundtracking your solo wanderings or whatever.  
Mostly stuff from the North Sea Institue for the Overmind made recently and a few tracks from other artists such as O Yuki Conjugate, Kali Malone, Corrupted Belly Buster, Eliane Radigue,  Dim Garden etc.
Its also on youtube because a looooot of people listen to music on youtube:
The mix has an xxtra dose of the magnificent Alesis MIDIVERB II FX machine BLOOM effect for an intense space experience
The painting is also called 'Ambient Trip Commander' I will make some prints of it soon and you can probably buy the original too with frame etc.. 
anyways here is the…Tracklist:
The Obsolete Computers –  新たな始まり
Rudolf Lalleman – De Zwarte Regenboog
Samantha Otto Fielding – A Light Only Seen In The Stars
Oberheim gepiel
EMU EMAX II Huxley Bliss
The Futures – Ain't no Time Fa Nothing Loop in Akai X7000
Luciano Berio's Wasserklavier on Synths
O Yuki Conjugate – Cloud Cover
Corrupted Bellybuster – Untitled
Small Town Minstrel – Castle Illuminator
Peter Michael Hamel – Organum
Arcane Head Celery – Spring Rain
Oiseaux Tristes – S900 Ravel Loop
Dim Garden – Sleeping like a Baby while the World Burns
Pancakes With Mist – Frisky Snowdog On A Mountainslope
Alchemulator PSS480 – Larping at Fairsnake Market – Wind Gallopper
Moon Film – See The Hills
Kali Malone – Fifth Worship
Éliane Radigue – L'île Re-Sonante
Zandvoort & Uilenbal – Noordzee Zo Eens in de Winter
---
19 April 2020
Secrets After Dreams Painting Art Prints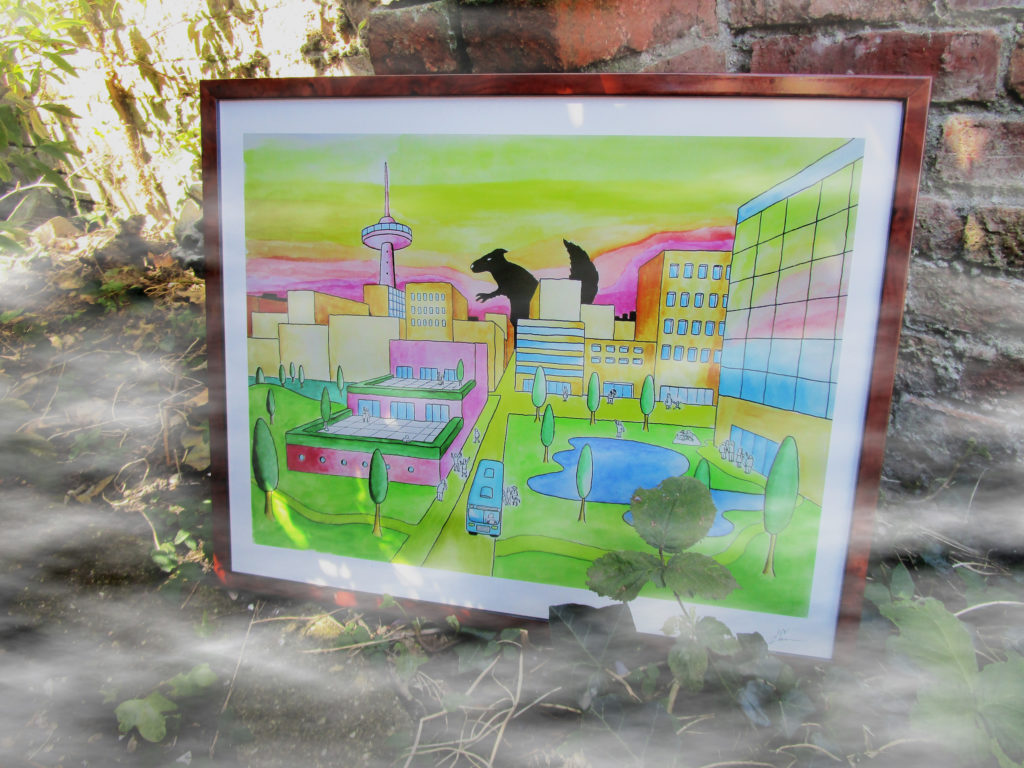 I made some art prints of the Secrets After Dreams painting.
These are Giclée museum grade art prints, printed on 100% cotton Canson infinity rag paper, a special paper that displays one of the purest whites, the deepest blacks and most intense colors available. Printed with a special art printing company that uses an EPSON supercolor P9000 series printer that prints almost all colors of the RGB spectrum.
The size is 50×40 centimeters 19.6///15.7 Inches
Available with cherry marble wood colored high quality frame with special museum anti reflective glass – if you want another type of frame I am sure we can work something out.
without frame the price is 163,5 euros inc. VAT excl. shipping
with frame the price is 218 euros inc. VAT excl. shipping
Edition of 5 copies, each signed and numbered, I can write something on the back too if required 😉
For any purchase inquiries drop an email to wolfersart [at] gmail.com
There are many other paintings and prints for sale too, including the original Secrets After Dreams painting -> check the Art Gallery section
---
8 April 2020
20 Years of Creme Organization Compilation
A cosey 20 track compilation 'celebrating' 20 years of DJ TLR's Creme records with all brand new fresh tracks from a whole horde of weirdos, not too much leftover tracks either and I am on there under a bunch of various guises as well as Mule Driver, Mark Du Mosch, Lake Haze, Innershades, R, Simoncino, Marco Bernardi and many many more -> Its pay what you want /FREE so go check it out!
---